XB!
Cappella Romana (FB) presents
Memorial Day Weekend:  LINCOLN CITY WORLD MUSIC SERIES
Sunday, May 25, 2014 at 7:00pm
Lincoln City Cultural Center, Lincoln City, Oregon


TICKETS AND INFORMATION 

For the final performance of the Lincoln City World Music Series, José Solano presents the world-renowned Byzantine music ensemble Cappella Romana in a performance of Greek and Russian Orthodox Chant and Choral Works, including Sergei Rachmaninoff's "Bogoroditse Devo," the Russian Orthodox "Ave Maria."

Fittingly for the Memorial Day Weekend, in honor of all those fallen in all the wars, Cappella Romana will also perform the late Sir John Tavener's "Funeral Canticle," which can be heard in the feature film 'The Tree of Life'.

Artistic director of Cappella Romana, Dr. Alexander Lingas, founded the ensemble in 1991. He is a fellow at the University of Oxford's European Humanities Research Center and a senior lecturer in Music at City University London.

This performance of Orthodox ancient and modern music will be led by singer, chorus master, conductor, and composer Adam Steele.  His composition on the Orthodox hymn "Axion estin" will also appear on the program.
 
---
Also: This Saturday: ArtBeat recital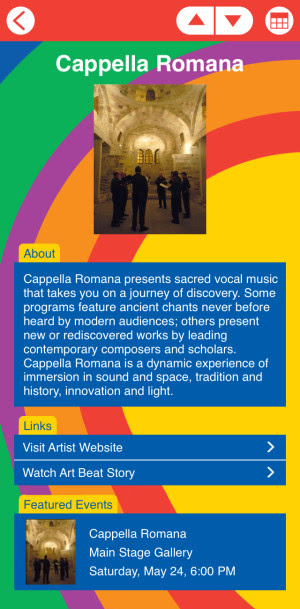 FREE RECITAL on Saturday, May 24, 3014 at 
6:00pm
at the ArtBeat Exhibition, Pioneer Place, Fourth Floor 
Information here

This short recital will feature some works heard over the past season and a few favorites.  Cappella Romana has been featured twice on Oregon ArtBeat, most recently profiling its 20th anniversary and its concerts of the Rachmaninoff All-Night Vigil.