Христос Pаждается! Славите! Christus Natus est! Gaudete! Χριστὸς Γεννᾶται! Δοξάσατε! Hristos se Naste! Ma ç riòi-L! 
Sviatki. Fast-free.  Third Day of the Feast of the Nativity.   Holy Protomartyr and Archdeacon Stephen (34).  
Time to Celebrate the New Year the old fashioned way in style! Happy New Year!
 ЦШО  "СВЕТИ АРХАНГЕЛ МИХАИЛО" ВАС ПОЗИВА НАДОЧЕК СРПСКЕ НОВЕ 2015. ГОДИНЕ
У УТОРАК, 13. ЈАНУАР 2015.
СА ПОЧЕТКОМ У 20 ЧАСОВА  УЗ ЖИВУ МУЗИКУ И СВЕЧАНУ ВЕЧЕРУ.ИНФОРМАЦИЈЕ И РЕЗЕРВАЦИЈЕ :
СТЕЛА
778-987-0499
УЛАЗ  $30
ДА ЈЕ СРЕЋНА И БОГОМ БЛАГОСЛОВЕНА 2015!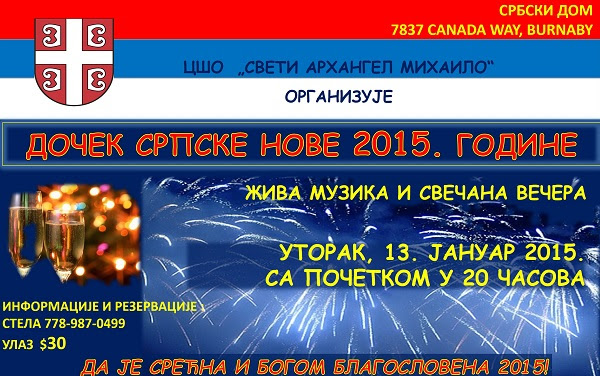 ---
We invite you to celebrate Serbian New Year 2015 with us on
January 13, 2015 at 8 PM,
Church Hall 7837 Canada Way, Burnaby
Live music and festive dinner.
Tickets $30. For reservations  call Stella at 778-987-0499.
Happy New Year!